Brief History of the nation

On July the Fourth, the day of America's Independence celebration, He announced the beginning of His mission which was to restore and to resurrect His lost and found people, who were identified as the original members of the Tribe of Shabazz from the Lost Nation of Asia. The lost people of the original nation of African descent, were captured, exploited, and dehumanized to serve as servitude slaves of America for over three centuries. His mission was to teach the downtrodden and defenseless Black people a thorough Knowledge of God and of themselves, and to put them on the road to Self-Independence with a superior culture and higher civilization than they had previously experienced. He taught us the ways of love and peace, of truth and beauty. We are being led into the path of a new spiritual culture and civilization of complete harmony and peace, one of refinement in the pursuit of happiness and eternal joy in the Supreme Knowledge of God and the Science of everything in life.

 IN 1931, THE MASTER WAS preaching this Great Truth of salvation when He met a man named Elijah Poole in Detroit, Michigan. He chose him to be His Divine Representative in continuing this most difficult task of bringing truth and light to His lost and found people. For 3 1/2 years He taught and trained the Honorable Elijah Muhammad night and day into the profound Secret Wisdom of the Reality of God, which included the hidden knowledge of the original people who were the first founders of civilization of our Planet and who had a full knowledge of the Universal Order of Things from the beginning of the Divine Creation. 

Upon the Master's departure in 1934, the Honorable Elijah Muhammad labored tirelessly to bring life to his mentally and spiritually dead people until his return to the Master in 1975. The Honorable Elijah Muhammad identified the Master as being the answer to the one that the world had been expecting for the past 2,000 years under the names Messiah, the second coming of Jesus, the Christ, Jehovah, God, and the Son of Man. When the Honorable Elijah Muhammad asked Him to identify Himself He replied that He was the Mahdi. He signed His name in 1933 as Master Wallace Fard Muhammad to express the meaning of One Who had come in the Early Morning Dawn of the New Millennium to lay the base for a New World Order of Peace and Righteousness on the foundation of Truth and Justice; to put down tyrants and to change the world into a Heaven on Earth. 

During the Honorable Elijah Muhammad's initial 44 years, he suffered persecution & rejection from the very people whom he was appointed as a Servant of God. He was rejected and despised by the 10 percent leaders of America and the world because he revealed a Greater Truth and Wisdom that would end the old world of Satan's rule and dominion. He was not self-taught or self-made but ONE MIGHTY IN POWER had taught him what he knew not. The Honorable Elijah Muhammad had never received any more than a fourth grade education, yet his heart was true in what he saw and he saw the greatest of the Signs of his Lord


                                        Nation Of Islam

            Muhammad Temple Of Islam # 12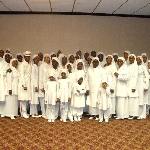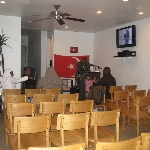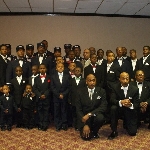 Muhammad Temple Of Islam # 12

1530 Point Breeze Ave

Philadelphia, Pa. 19146

215-271-1374

www.muhammadtempleofislam12@gmail.com